During an economic downturn, when many charities witness a drop in individual giving donations, charity shops provide an increasingly crucial source of revenue, as supporters will often purchase goods from a charity shop even when scaling back on their direct donations. However, charity shops across the UK currently face the challenge of generating sufficient funds while battling the rising costs of rent, staffing, utilities, and other operational expenses. This article explores the potential of Electronic Point of Sale (EPOS) systems to drive growth in charity retail and streamline the donation process.
The current state of charity retail and the revenue challenge
Charity shops in the UK have seen steady growth over the past few years, despite the overall decline of in-store retail, with around 11,200 shops on the high streets. However, revenue growth remains a persistent challenge, considering increased competition from online and discount retailers (both charitable and private sector), and shifting consumer preferences. To stay afloat and ensure that their funds reach their cause, charity organisations need to embrace modern retail solutions like EPOS systems that can provide incisive sales information, improve customer service, and integrate with other essential software.
What is an EPOS system and what are its advantages?
An EPOS system is an integrated hardware and software solution that replaces traditional cash registers with easy-to-use touchscreen devices. This allows charity retailers to process transactions and donations quickly and efficiently, while also tracking sales data and inventory levels in real-time. In the context of charity shops, EPOS systems can offer several advantages:
Enhanced efficiency: An EPOS system can speed up the checkout process and automate inventory management and Gift Aid submissions, giving staff more time to attend to customers and other crucial tasks.
Accurate sales data: With accurate, real-time sales data, charity shop leaders can make well-informed decisions about pricing, stock levels, and shop promotions.
Improved customer experience: EPOS systems can store customer information and preferences, allowing charity shops to offer personalised fundraising communications and loyalty schemes to encourage donations and repeat purchases.
Seamless integration: EPOS systems can easily integrate with accounting and stock management software, simplifying financial reporting and regulatory compliance, and can also integrate with your fundraising/donor database.
Selecting the right EPOS system for your charity shop
When choosing an EPOS system for your charity shop, consider the following features:
Intuitive and user-friendly interface – extremely important for older volunteers who may not be as confident with electronic/digital systems as professional retail staff.
24/7 support and regular updates.
Integration with essential software platforms, such as accounting, fundraising CRM, and inventory management systems.
In-built Gift Aid integration and reporting.
Secure and reliable data storage options.
Find out more
Wil-U provides a complete point-of-sale administration and reporting system for UK charities, allowing you to maximise your revenues from charity retail and streamline your operating costs. To find out more about how our EPOS system can help your charity shops can grow, please get in touch today.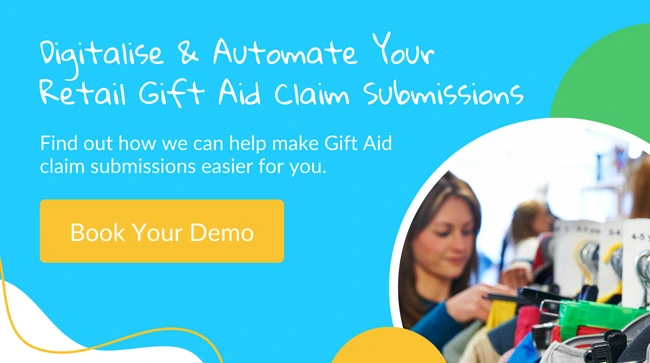 Image Source: Canva