As the director of a small-scale or local UK charity, it's easy to feel like a little fish in a big pond, continuously outcompeted for direct donations by large national charities (with proportionally larger fundraising and promotional budgets). In the face of this, an effective way for small charities to sustain both market recognition and revenues is to encourage item donations for sale in your charity shops.
In this article, we'll share a few tips on how you can turbocharge your item donations to get the support you need to make a real difference.
Make it easy and convenient for people to donate money and Gift Aid
One of the primary reasons people don't donate items is that it's inconvenient or complicated – it's simply easier to place the item on eBay or Freecycle than it is to donate to charity. To overcome this barrier, make sure you have various options for people to donate that fit in with their lifestyle. This can include direct donations in charity shops, donation bins in local hospitals, schools, and supermarkets, 'call to collect' donations arranged through your website or social media pages (a popular option for furniture donations), or pop-up donation points at weekend markets or events.
Additionally, make sure to promote the Gift Aid option to donors for items donated. Gift Aid allows you to claim an extra 25p for every £1 received when the item is sold, at no extra cost to them. It's a win-win situation, so make sure to highlight this option in all donation communications.
Show how item donations help the people your charity supports
When people understand how their donations can help, they are more likely to donate unwanted items. Provide case studies, testimonials, or examples to show how donated items have helped those who depend on your charity's support – e.g., through increasing retail revenues or providing direct support. When donors know how their contributions directly benefit those in need, it inspires them to give.
Consider creating visuals, such as social media photo montages and videos on Instagram, to help spread the word among your supporters and make donors feel more connected to your cause.
Partner with businesses in your area to increase item donations
Partnering with businesses in your area can create immense value for your charity. Get in touch with businesses that sell items similar to those you need or that may be in a position to offer space in-store for item collections, staff volunteers, promotion for your charity on their website and socials, or direct aid (e.g. use of one of their vehicles to collect items from donors). For example, local supermarkets could provide excess food (e.g., for a food bank or for sale in a charity shop), or clothing outlets could donate previous season stock. By partnering with such businesses, you get free or low-cost, much-needed items your charity shop needs, while supporting their corporate social responsibility objectives.
Ensure your charity's brand is consistent in stores and drop-off points
Donors may not immediately know that your charity accepts item donations, so make sure that all donation bins and drop-off points clearly display your charity's brand and messaging. This can also increase credibility and boost donations by increasing trust in your charity's work.
Invest in a charity EPOS system to track your inventory and streamline revenue management
To stay organised and efficient in your item donations strategy, track your donations and revenue using an EPOS system created specifically for charity retail. An EPOS system can help you monitor donations, stay connected with donors, and manage revenues from fundraising and purchases. A modern tablet-based system, such as Wil-U, will streamline deposit processing and Gift Aid submissions, improve the customer experience, and give you better visibility over your donated stock and inventory so you know what areas in your stock you are lacking, or what you are exceeding in amount.
What's next?
Get in touch today to learn more about our innovative Wil-U charity EPOS system and how it can support your fundraising and donation goals this year.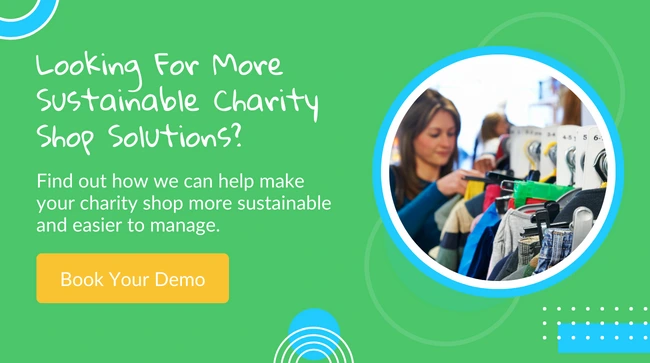 Image Source: Canva